Calling all Basses!
We are particularly keen to recruit new bass members of the choir. If this is of interest to you, or you know of a gentleman who might be interested in singing with us, please contact our Musical Director Jason Lambert or Chairperson Suzanne Long – contact details for both Jason and Suzanne can be found here.
---
Norwich Singers are Spreading the Festive Message
In the run-up to Christmas, the Norwich Singers will be singing at a number of venues throughout the local community, as well as performing in our two Christmas concerts (see below for details). Our first stop on Saturday 8 December 2018 was Doughty's in Norwich, which provides self-contained accommodation for older people. A small group from the choir spent a very enjoyable afternoon entertaining the residents with a selection of Christmas carols and songs.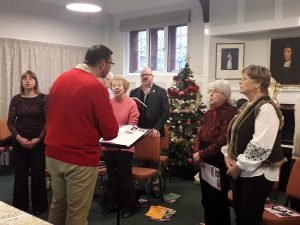 Next stop for Norwich Singers was Norwich Community Hospital on Thursday 13 December. Some of the choir entertained patients with festive carols and songs – and some fine Christmas jumpers!
---

Christmas Concert – Norwich
Our next concert will be our annual Christmas concert, which will take place on Saturday 15 December 2018 in Chapel Field Road Methodist Church at 7.30pm.  The evening will tell the Christmas story through carols, songs and poetry. Tickets are £8 available on the door and as usual we will have a finger buffet during the interval.
Christmas Concert – Howe Hill
We are also very pleased to have been asked to perform a Christmas concert again this year at How Hill on the evening of Tuesday 18 December.  Tickets are sold by How Hill on 01692.678555.  Early booking is advised as this is always a very popular concert.
---
Norwich Singers on Tour
On Sunday 25 November 2018 a small ensemble from the Norwich Singers travelled to Balderton near Newark in Nottinghamshire to sing at an evening service at St Giles Church. The service took the form of songs, readings and meditations to assist in preparing for Christmas. Both choir and congregation found it to be a lovely and moving experience. We were especially pleased to be able to sing at St Giles which is the home church of our Musical Director, Jason Lambert.