Calling all Basses!
We are particularly keen to recruit new bass members of the choir. If this is of interest to you, or you know of a gentleman who might be interested in singing with us, please contact our Musical Director Jason Lambert or Chairperson Suzanne Long – contact details for both Jason and Suzanne can be found here.
Spring 2020 News
---
Norwich Singers Spring Concert Cancelled
It is with deep regret that Norwich Singers have taken the decision to cancel the performance of St John Passion on 4 April 2020.

Norwich Singers feel that under the current circumstances, and for the health and wellbeing of all who will be at the concert, it could not continue without there being some risk to the choir, performers or the audience.

Norwich Singers are now planning to perform Bach's St John Passion on 27 March 2021.
---
Busy December for Norwich Singers
Norwich Singers had a very busy December singing around the city and further afield.
The festive season started early, on 1 December 2019, when Norwich Singers sang an Advent Carol Service at St Edmund's Church, Costessey, Norwich. This was the first Advent Carol Service in the church for a number of years, and the first time Norwich Singers have sung an Advent Carol Service. The service was well attended and all enjoyed this reflective start to the hectic Christmas period.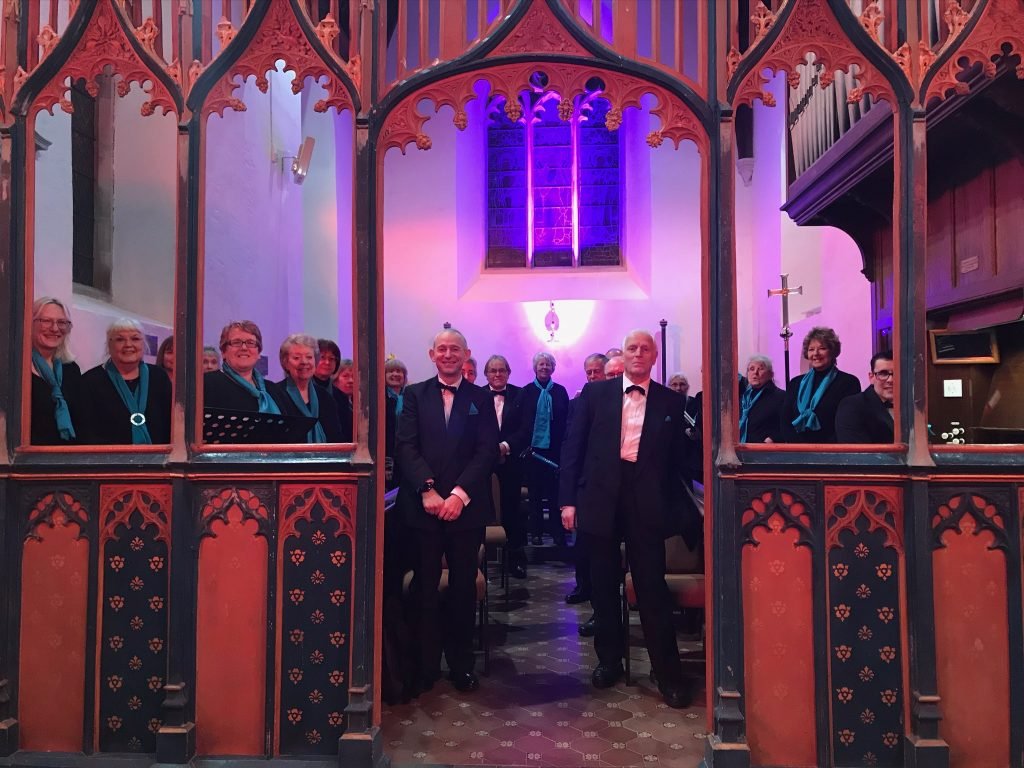 On Saturday 7 December a small group from the Norwich Singers sang carols at Doughty's Hospital in Norwich, and on Thursday 12 December another small group did the same at the Community Hospital in Norwich.
Norwich Singers' Christmas Concert took place at Chapel Field Methodist Church on Saturday 14 December 2019. As usual the concert told the Christmas story through carols, songs and readings. As well as many favourite songs and carols, the choir also performed some new pieces, including 'Out of the Orient Crystal Skies' by Kerry Andrews and 'Birthday Carol, by David Willcocks, and for the first time a New Year's carol, 'New Year' by John Rutter.
On the following Monday and Tuesday, 16 and 17 December, the Norwich Singers were very pleased to perform our Christmas concert again at How Hill as we have done in previous years. This was once again a most enjoyable evening, helped along by mince pies and mulled wine, and helped to raise valuable funds for the How Hill Trust.

---
Norwich Singers help raise awareness of teen suicide
On Friday 11 October 2019, the Norwich Singers were very proud to sing at an evening raising awareness of the horrific rise in the number of young people taking their own lives.
Exactly one year earlier, Jess Fairweather, a first-year student at UEA, originally from North Walsham, had taken his own life. HIs mother, Bev Cox, has made a film about the five days after Jess's death both as a testament to him and to raise awareness of the issues of depression and suicide int young people. The evening, held at the Puppet Theatre, allowed friends and family to remember Jess, and launched the short film.
Jess loved musicals and so the Norwich Singers were asked to sing songs from some of Jess's favourite musicals: 'Any Dream Will Do' from Joseph and his Amazing Technicolour Dreamcoat, 'Feed the Birds' From Mary Poppins, and a medley from Oliver.
The evening ended with Jess's favourite song – 'Razzle Dazzle' from Chicago and everyone was given a small sealed envelope full of glitter, bearing the words 'Keep Your Razzle Dazzle!'
It was a beautiful evening talking about an important issue, and the Norwich Singers were very pleased to be a small part of it.
---
Forthcoming engagements
Following a busy festive season, the Norwich Singers are now back in rehearsals for a busy schedule in 2020.

In the Spring of 2020 the Norwich Singers are excited to announce that they will be singing Bach's St John Passion, with chamber orchestra, on Saturday 4 April 2020 at Chapel Field Methodist Church.

Finally the 2020 Summer Concert will be A Slice Of Broadway, with songs from many of your favourite musicals. This will take place on Saturday 11 July 2020 at Chapel Field Methodist Church.

Further details will follow shortly.
New members wanted
The choir is a friendly crowd and is always keen to welcome new singers! If you would like to come along and see what we do and whether you would like to join us please contact our Musical Director Jason Lambert or Chairperson Suzanne Long – contact details for both Jason and Suzanne can be found here.

---
Summer Concert 2019
65th Anniversary Concert
The Norwich Singers Summer Concert performed their 65th anniversary concert at Chapel Field Road Methodist Church on Saturday 13 July. The programme was been chosen by the choir themselves and comprised their favourite pieces over the last 65 years.

Click here for a report of the concert.

Summer evening concert at Stokesby
The Norwich Singers were delighted to give an evening concert on Saturday 29 June at 7.30 at the Parish Church of St Andrew, Stokesby.

Click here for a report of the concert.
---
Spring Concert 2019
The Norwich Singers presented a varied selection of classical choral music at their Spring Concert on 13 April 2019. Together with professional soloists, Hannah Long, Chris Steed and Steve Holmes, the choir performed pieces by Haydn, Handel and John Henry Maunder.

Click here for a full report of the concert.