Summer Concert 2019
65th Anniversary Concert
Chapel Field Road Methodist Church
Saturday 13 July 2019 at 7.30pm
Tickets £8 (£5 for students) including finger buffet in the interval – available on the door
Parking is available in Bignold School car park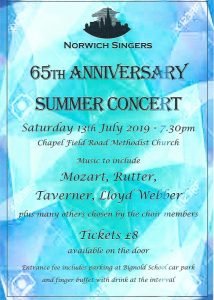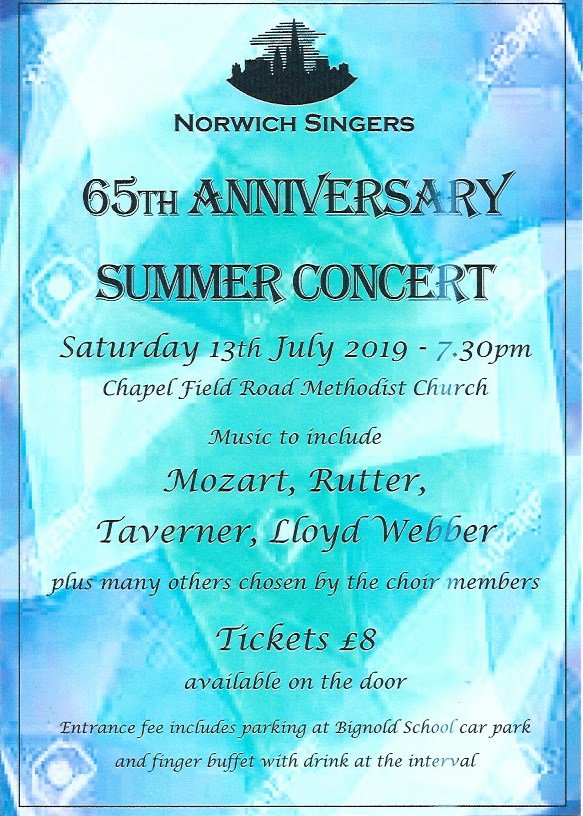 2019 is the 65th Anniversary of the founding of the Norwich Singers. To celebrate the choir will be presenting a varied selection of choral music at their Summer Concert on Saturday 13th July 2019.
We are are delighted to be joined once again at this concert by our professional soloist, Hannah Long.
All the pieces performed at this concert have been chosen by the choir and are either favourites that the choir have performed over the years, or personal favourites. They span nearly 300 years and range from Mozart to Lloyd Webber, Bruckner to Rutter. You are sure to recognise many of them as your own favourites!