Spring Concert 2019
The Norwich Singers will be presenting a varied selection of Classical choral music at their Spring Concert on Saturday 13th April 2019. Together with professional soloists, Hannah Long, Chris Steed and Steve Holmes, the choir will perform pieces by Haydn, Handel and John Henry Maunder.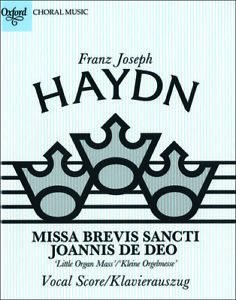 Haydn's Missa brevis Sancti Joannis de Deo in B flat major was composed around 1775  for the Order of the Brothers of Mercy based in Eisenstadt. The missa brevis (short mass), written for soprano solo and four-part choir, is known as the Little Organ Mass because of an extended organ solo in the Benedictus.
Handel's Messiah has been a staple of choirs and choral societies for hundreds of years. Composed in 1741, it has become one of the most frequently performed choral works in Western music. The Norwich Singers will be performing the 'Hallelujah' chorus, 'Worthy is the lamb that was slain' and the 'Amen' chorus.
John Henry Maunder (1858–1920) has seen a revival in interest in his music in recent years. His music is characteristic of the music of the Victorian era, a style that in its time was superseded by the music of composers such as Parry, Stanford and Wood. Olivet in Calvary, written for tenor and baritone soloists and chorus in 1904, is one amongst a number of church cantatas he wrote.
This concert promises to be an enjoyable evening focussing as it does on the Easter period that starts the day after with Palm Sunday. The concert will be held as usual at Chapel Field Road Methodist Church and starts at 7.30pm. Tickets are £8 and are available on the door.