Summer Concert 2019: 65th Anniversary Concert
2019 is the 65th Anniversary of the founding of the Norwich Singers. To celebrate the choir presented a varied selection of choral music at their Summer Concert on Saturday 13 July 2019, held as usual at Chapel Field Methodist Church.
We were delighted to be joined once again at this concert by our professional soloist, Hannah Long.
All the pieces performed at this concert were chosen by the choir and are either favourites that the choir have performed over the years, or personal favourites. The pieces spanned nearly 300 years and ranged from Mozart to Lloyd Webber, Bruckner to Rutter, culminating triumphantly in The Easter Hymn from Cavallaria Rusticana, where the choir split into 13 parts!
Summer's evening concert at Stokesby
The Norwich Singers were delighted to give an evening concert on Saturday 29 June at the Parish Church of St Andrew, Stokesby, in aid of Church funds.
On a glorious summer evening the audience were able to enjoy a mix of secular and sacred music, ranging from Mozart and Fauré to Rutter and Tavener. This was interspersed with piano solos from our accompanist Matthew Bond and music director Jason Lambert, and a plan duet performed by Matthew with choir member Jackie Duchaene.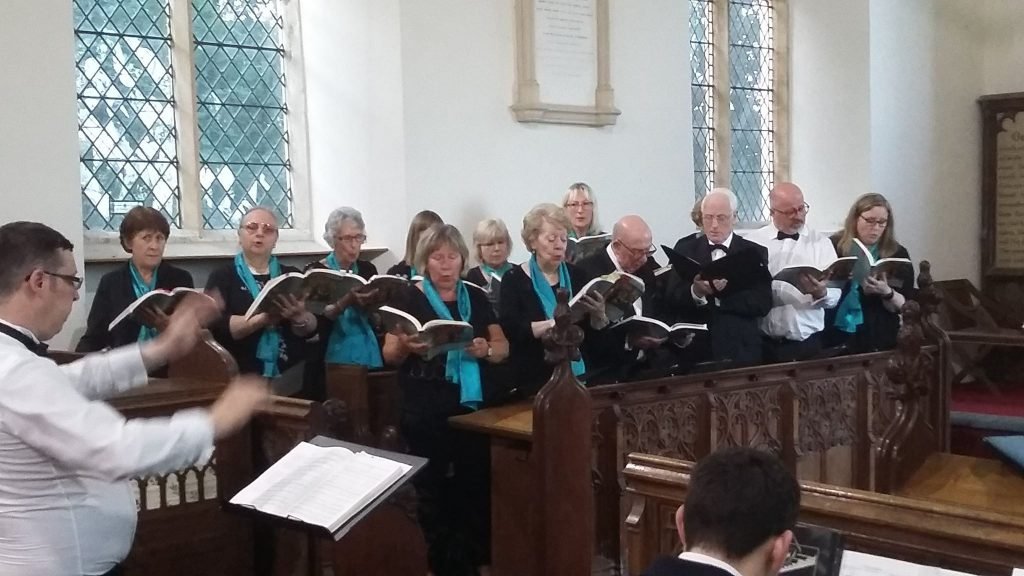 ---
Spring Concert 2019
The Norwich Singers present a varied selection of Classical choral music at their successful Spring Concert on 13 April 2019 at Chapel Field Road Methodist Church.

The concert opened with two excerpts from Handel's Messiah: Behold the Lamb of God, sung by the choir and If God be for us, sung by professional soprano soloist Hannah Long.

Hannah then joined the choir as soloist in their performance of Haydn's Little Organ Mass. Haydn wrote this work in about 1775 for the Order of the Brothers of Mercy in Eisenstadt. He achieved the short length of the Mass by telescoping the text of the Gloria and Credo, so that at times four different sets of words are being sung simultaneously.
This was followed by a very different piece of sacred music, JH Maunder's Olivet to Calvary, for which the choir were joined by professional soloists Chris Steed and Steve Holmes.

John Maunder was the organist of several churches in the London suburbs. He became conductor of the Civil Service Vocal Union in 1881. Olivet to Calvary, the best known of his many sacred cantatas, was published in 1905.
Finally the concert concluded with two more excerpts from Handel's Messiah. Hannah Long returned to perform I Know that my Redeemer Liveth, before the choir ended the concert with the great final chorus of Handel's work, Worthy is the Lamb that was Slain and the Amen Chorus.
---
A busy Christmas Period for the Norwich Singers
The Norwich Singers were very busy in the run-up to Christmas 2018, with two very successful carol concerts, as well as singing at a number of venues throughout the local community.
Christmas Concerts 2018
Our annual Christmas concert, on Saturday 15 December 2018 in Chapel Field Road Methodist Church was another successful Christmas concert for the choir. The evening told the Christmas story through carols, songs and poetry. As well as many of the well-known favourite carols, the choir performed some more modern carols that are already featuring regularly in the Christmas repertoire, such as William Mathias's 'A Babe is Born' and John Rutter's 'All Bells in Paradise'.
Three days later on Tuesday 18 December the Norwich Singers were very pleased to perform our Christmas concert again at How Hill as we have done in previous years. This is always a most enjoyable evening and the room was once again full to capacity, helping to raise valuable funds for the How Hill Trust.
Carols in the Community
In the run-up to Christmas, the Norwich Singers sang at a number of venues throughout the local community. Our first stop on Saturday 8 December 2018 was Doughty's in Norwich, which provides self-contained accommodation for older people. A small group from the choir spent a very enjoyable afternoon entertaining the residents with a selection of Christmas carols and songs.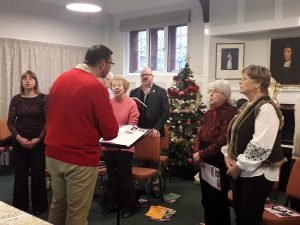 Next stop for Norwich Singers was Norwich Community Hospital on Thursday 13 December. Some of the choir entertained patients with festive carols and songs – and some fine Christmas jumpers!
Finally, on Friday 21 December, a small group from the choir sang carols at lunchtime at Café Britannia in Waterloo Park.
---
Norwich Singers on Tour
On Sunday 25 November 2018 a small ensemble from the Norwich Singers travelled to Balderton near Newark in Nottinghamshire to sing at an evening service at St Giles Church. The service took the form of songs, readings and meditations to assist in preparing for Christmas. Both choir and congregation found it to be a lovely and moving experience. We were especially pleased to be able to sing at St Giles which is the home church of our Musical Director, Jason Lambert.